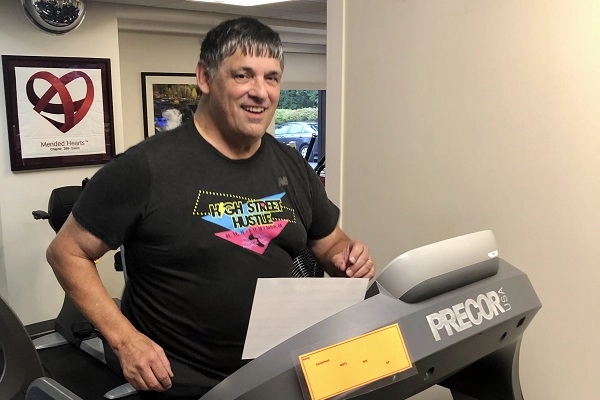 The annual High Street Hustle brings together more than a thousand runners and walkers to the streets of Salem. Over the past four years, the event has raised $96,000 for the Salem Health Foundation to provide heart disease awareness and prevention.
"As the population we serve has grown, so has the need for foundation support to advance our mission," said Bryce Petersen, Salem Health director of community outreach. "Donor gifts make a special impact on the High Street Hustle for Heart Fund and back initiatives that enhance Salem Health's top-notch cardiovascular program."
The High Street Hustle Heart Fund has supported to date:
More than 100 defibrillators for the community
Cardiovascular training equipment (recumbent bicycles and treadmills)
At-home heart monitors, digital scales and blood pressure cuffs
Emergency financial assistance
Education materials promoting heart-healthy lifestyles
Barry N. had triple bypass surgery in 2016. Three years later, he continues his weekly workouts at the cardiovascular and pulmonary rehabilitation gym at Salem Hospital. He also participated in the 2018 High Street Hustle.
"I think it's a good thing," said Barry. "Anything that helps recovering heart patients is always a positive. It's great knowing the community plays a part in making it all possible."
Salem Health is proud to be the premier partner of the 2019 High Street Hustle 5K and 10K runs, which are part of the Spirit of Oregon Half Marathon. The Sunday, Oct. 6, event starts and ends at the state capitol in Salem.
Find more details about the High Street Hustle and register at
spiritoforegonrun.com
. The deadline to register is Saturday, Oct. 5.