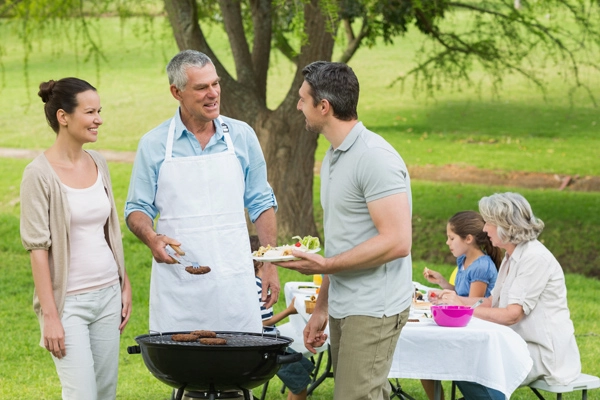 Good food. Good friends. Good fun. Summer barbecues can be all that.

But when you plan your next gathering, keep food safety in mind. The U.S. Centers for Disease Control and Prevention estimates that every year about 76 million people in the U.S. become ill from harmful bacteria in food, and of those, about 5,000 die.

Here's a step health care workers follow that can help you and your guests stay well this summer: Wash your hands.

This yummy burger recipe from the U.S. Department of Agriculture gives specific instructions for the right times to wash your hands while cooking. Yes, we said "times" not "time." Give a thought to adding hand-washing instructions to your meat recipes to keep everyone safe.


Fiesta Burgers
Makes 4 servings

1 ½ pounds ground beef
¼ cup onion, chopped
2 tablespoons red bell pepper, finely chopped
3 tablespoons picante sauce or salsa
2 teaspoons prepared Dijon-style mustard
1 tablespoon prepared horseradish (optional)
salt and pepper to taste
4 sesame seed hamburger buns
leaf lettuce and sliced tomatoes

Wash hands with soap and warm water for 20 seconds before handling the meat.

In a bowl, mix ground beef with onion, red pepper, picante sauce or salsa, mustard, horseradish (if desired), salt, and pepper.

Form into four burgers, about ¾ inch thick.

Wash hands with soap and warm water for 20 seconds after handling the meat.

Using clean utensils, place burgers on grill that has reached medium-high heat.

Check each burger with a food thermometer after approximately 10–15 minutes. Turn burgers as needed. A hamburger is done when it reaches 160 °F.

Clean the thermometer between uses with hot, soapy water.

Place burgers on buns and top with condiments and garnishes of choice.

After checking the final temperature, remember to clean the food thermometer with hot, soapy water.

For additional cooking ideas, check out one of our cooking classes!