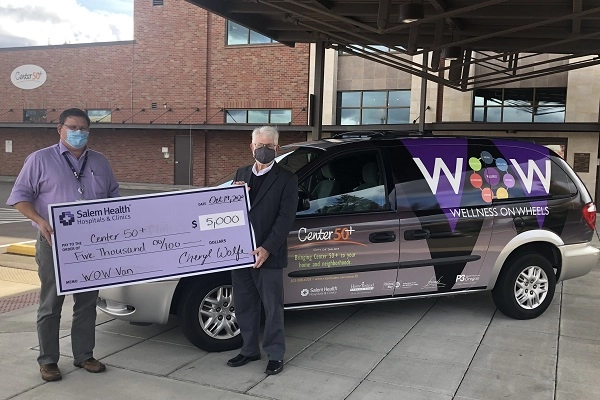 Center50+ — the local senior center providing programs and services to adults age 50 and older — has been serving the City of Salem since 1976. The center strives to keep aging people healthy through social and physical activities.
Thousands of people rely on Center 50+ programs but COVID-19 has impacted access. Virtual classes began in April, but taking advantage of these offerings has been difficult for those with limited technology.
But soon, in-person activities will be possible again.
Thanks to a $5,000 investment grant from Salem Health, Wellness on Wheels — a mobile version of Center 50+ — will reconnect 200 residents per week to this vital service beginning in mid-August.
"People in this age range are already at higher risk should they contract COVID-19," said Leilani Slama, Salem Health chief communications and community relations officer. "On top of this, the pandemic has disconnected many from their peers, family and community services such as this one. Rebuilding those ties is one way we are fighting COVID-19 outside the hospital setting."
The Wellness on Wheels (WOW) van will visit seniors isolated at home, age 55+ apartment complexes and senior designated neighborhoods and mobile home parks. In addition, the WOW van will provide pop up programming throughout the community using local parks and other public spaces where allowed, including at fitness events, plus offering advice on nutrition, home safety and fall prevention. The WOW van will also offer brain exercises, arts and crafts, friendly visits, dog visits and tech assistance. All programming promotes overall wellness and healthy aging. The pilot program will run from August 15, 2020-August 30, 2021.
Salem Health recognizes wellness is about more than just physical health. During a pandemic that requires everyone keep a distance, programs that successfully foster social interactions have never been more important. Center50+ programs aim to do just that.