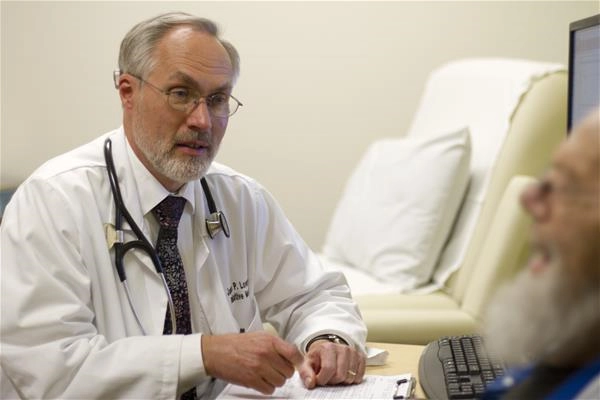 By James Lowry, MD, Salem Health palliative care specialist

Throughout my career as a cardiologist I've had long conversations with my patients. The opportunity to listen — to talk with them about their concerns and desires for the future — is important to me.
So, in 2014 I gave up my Salem cardiology practice and completed a palliative care fellowship in Texas. I recently returned to Salem and became a palliative care provider at Salem Health. I now have the opportunity to really listen to patients and spend time with them.
People may think "palliative care" is just for people who are dying, but that's a misunderstanding. In reality, it's a way to improve the quality of life for patients who are being treated for serious illness. We are trying to make things better for patients and their families.
In my fellowship I learned to tell the patient and family to hope for the best and prepare for the worst. We encourage hope, but recognize that being prepared is really important.
Many of our cancer patients reach a point where there is no more treatment to offer, or they don't want more treatment. Some have just been diagnosed with late-stage cancer. In those cases, there is little treatment can do but much to be gained from palliative care.
People with lung or heart disease can face a similar situation. They may have abrupt onset of symptoms that can cause panic and anxiety. They frequently end up in the emergency department. Congestive heart failure is not curable — we can't make it go away.
These days I spend lots of time with patients and families and we talk about difficult topics.
We talk about their condition and what quality of life they want. For some, quality of life means getting as much treatment as possible. For others, it means adjusting to the symptoms, staying out of the hospital, and spending time with loved ones.
We talk about how to relieve suffering. We weigh the benefits of repeatedly going to the hospital for treatment that doesn't cure a condition versus staying at home. We talk about when it's time for hospice.
These conversations with patients and families often take hours. My goal is to listen more than talk.
When a patient dies or is taken off life support I feel gratified to know I have been there to help in every way I can.
Some will do better or live much longer than expected — or even graduate from hospice. That is always rewarding to witness! We can then support recovery, or at least a better quality of life.
When Salem Cancer Institute's Medical Director Dr. Nancy Boutin and Salem Health started the palliative care program, I thought it was a great opportunity for the community. And I thought maybe it was something I could do someday. As a guy trying to be useful and helpful to other people, I'm honored to be here.