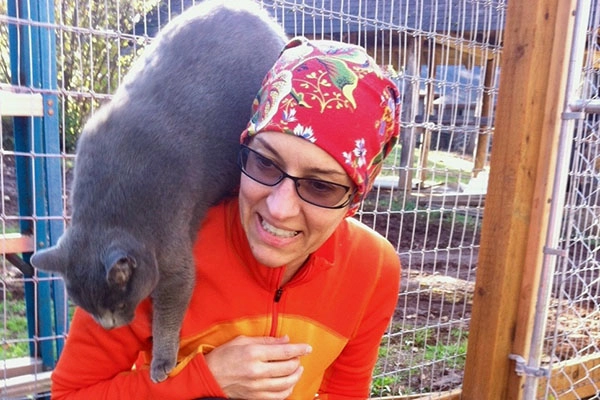 Long-time Salem Hospital nurse Daryn J. currently works in the operating room. But her passion away from work is caring for animals.

"I figure I work with humans during the day — my spare time is for the animals," Daryn said. "They deserve to live as free as can be."
Since 2012, Daryn has volunteered with the group Fences For Fido. The organization builds fences and insulated dog houses — for free — all over Oregon. Their goal is for outdoor-living canines to live unchained and enjoy more freedom.
She has also donated her time since 2014 working at the WildCat Ridge Sanctuary in Scotts Mills. This unique sanctuary provides safe homes for captive-born wildcats in need – including bobcats, cougars and tigers, just to name a few.
"I help with building and maintaining enclosures, planting trees, and any work that keeps the place in tip-top shape," Daryn said.
Her dedicated volunteer work for both organizations continues year-round. Daryn said, "I go out in the sun, rain, snow, wind and cold!"
Daryn says she plans to keep volunteering for years to come.
Salem Health offers many opportunities to become a volunteer. Find more information at www.salemhealth.org/volunteers.