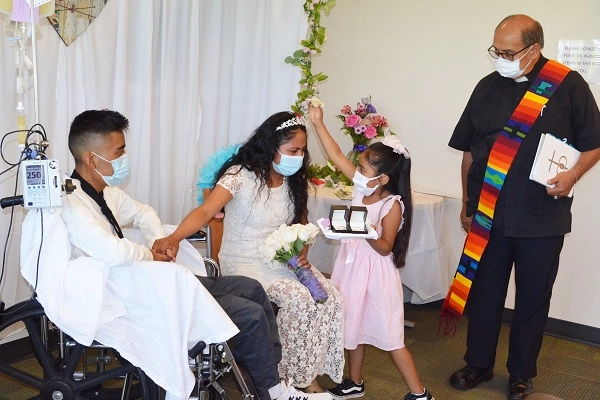 Miguel knew he was dying. He only wanted two things now — to marry the love of his life and return to the village where he grew up in Mexico. Both sounded impossible.
But not to staff at Salem Hospital. Being a patient with cancer for 41 days wasn't a barrier, thanks to his nurse Maricela Vasquez-Cortez and care managers Sheri Aguilar and Amy Ward.
In just a couple of days, they transformed the sunroom near the oncology unit into an intimate wedding chapel. They brought in a Spanish-speaking priest, Leo Pasca, from St. Joseph's Catholic Church, decorations and a cake from Gerry Frank's Konditorei.
With their daughter close by, Miguel and Bella exchanged rings and vows as Salem Health photographer Tim Lamberson captured the moment. The family flew to Mexico the next morning with this cherished memory.
Salem Health's oncology, palliative and spiritual care units showed extraordinary compassion in a time when so many obstacles could have denied Miguel his dying wish. We thank them for this special act of heroism!