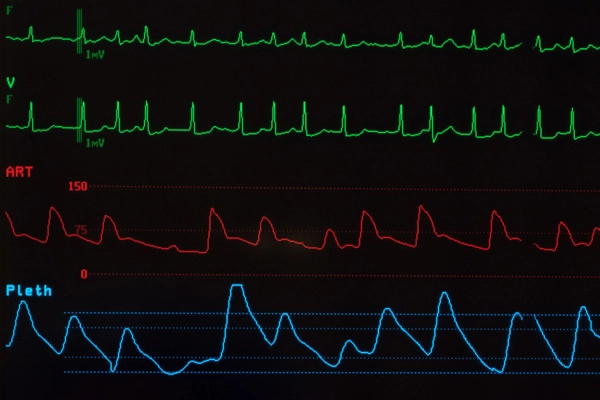 It is easy to blame weight gain, weakness and exhaustion on the aging process and poor eating habits, which is exactly what Jerry N. did.
Fortunately for Jerry, when his entire family gathered together for a wedding, they convinced him that something was seriously wrong. "They all insisted I get checked and took me to urgent care the next day."
As it turns out, Jerry's heart was not working well. He had atrial fibrillation; also called A-fib — the most common cardiac arrhythmia or irregular heartbeat. In addition, he found out the weight gain was a result of water retention due to his heart condition.
"I was given medication to decrease the water retention and told that I needed to go to the hospital," recalls Jerry. "But, I wanted to see if the medications would solve the problem without having to check into the hospital, so I went home." To Jerry's dismay, the next day he was hospitalized. Over the course of the next six days he lost 35 pounds of water weight.
Following his release from the hospital, Jerry saw nurse practitioner Kathleen Thurman, FNP, with Santiam Medical Clinic. She recommended Jerry see Paul Nuemann, MD, as his primary care physician at Santiam Medical Clinic and cardiologist Kamran Ghalili, MD, at Salem Health.
"I went in for check-ups with both doctors," said Jerry. "Dr. Ghalili decided he needed to investigate further. He wasn't content with accepting that I was retaining fluids just because of the A-fib. He thought there were other causes."
Dr. Ghalili did an angiogram to see if any of Jerry's arteries were blocked. Sure enough, one of Jerry's coronary arteries was nearly 100 percent blocked and another was severely compromised. The blood wasn't supplying the muscles in Jerry's heart, so his heart wasn't functioning well.
"I was told the output of my heart was down to only 10 to 15 percent. Good function is in the 60 to 70 percent range," said Jerry. Jerry's condition was so bad his doctors feared if something wasn't done immediately, Jerry's heart would stop.
Dr. Ghalili recommended stents, with the use of Salem Health's new Impella 2.5 ventricular assist device, to open up Jerry's arteries.
According to Dr. Ghalili, the Impella device is suited well for high-risk coronary interventions. "If the heart stops or is not pumping well, the Impella device acts as an internal bypass, pumping blood throughout the body," he explained. "As a result, cardiologists have time to patiently repair damaged arteries and complete the procedure without opening the patient's chest and exposing the heart and other tissues."
The Impella device is so small it can be inserted into the patient's heart via a standard catheter through the femoral artery in the upper leg and inserted into the left ventricle via the aorta.
"Although I was nervous to be the first patient in the area to use the device, Dr. Ghalili helped put my mind at ease by fully educating me about the device and procedure," Jerry said. "He provided research and statistics showing its success record to date." In addition, Jerry's daughter did extensive research on the Impella device, helping build Jerry's confidence.
Jerry was awake during both procedures, but because he was given medication to help him relax, he didn't feel anything and even dozed off during the procedure.
"Jerry's heart stopped during his stent procedure," said Dr. Ghalili. "But, the Impella device was working great. Jerry didn't even know his heart had stopped. In fact, he was awake, talking and laughing throughout the procedure. Once the stents were in, his heart started to pump again on its own, and we removed the Impella device."
At Jerry's most recent check-up, his heart function was up to 45 to 50 percent.
"I think Dr. Ghalili is a miracle worker," exclaimed Jerry. "They put five stents in that day, and now I feel like a whole new person. I get nothing but better and better. I would highly recommend Dr. Ghalili and that procedure for anyone who it is right for."