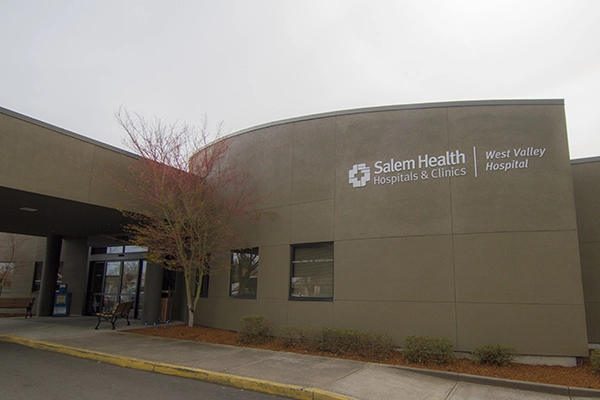 When Marie B. experienced symptoms that led to gallbladder removal surgery, her friends' recommendations pointed her to general surgeon Alison Smith, MD, Salem Health Specialty Clinic - Dallas (formerly West Valley Surgical Specialty Clinic).
"I began to experience a steady pain on my right side under the upper abdomen— a sharp pain, similar to indigestion that didn't go away," Marie said.
Her physician recommended gallbladder surgery, one of the most common surgeries performed in the U.S. Marie requested a referral to Dr. Smith, who scheduled the surgery as a convenient, minimally invasive procedure at West Valley Hospital.
Marie checked into the hospital on a Monday morning and was back home by noon the same day. She even felt back to normal the next day, but decided to wait for a post-surgery checkup the following Monday before she resumed her active lifestyle.
"The care I received at West Valley Hospital was excellent," Marie said.
Marie is invited back
That introduction two years ago led to an invitation to participate as a patient advisor in the hospital's planning for its $6.2 million surgical suite remodel and expansion.
Marie provided a patient's perspective at five full-day planning sessions with architects, hospital administrators and staff — including Dr. Smith, operating room nurses and representatives from various hospital services such as the lab and physical therapy.
All groups provided insight to ensure the best design for patients, staff and families who use the hospital. The group was divided into three teams that each designed miniature models of the ideal surgical suite. The three best options were incorporated into a single design.
"Among the top priorities incorporated into the final plan were patient privacy, a private waiting room for patients and families to wait before and during surgery, and also a separate conference room for doctors to meet with their patient's spouse and family," Marie said.
Additional input highlighted the need for improved patient rooms and more space to accommodate the hospital's latest state-of-the-art equipment.
New surgical suite unveiled
When it comes to the final design and what patients can see today, Marie explains it best: "The architects captured the best of each team's design in their final design. They took our suggestions seriously.
"When I moved to Dallas six years ago, there were few local doctors taking new patients. West Valley Hospital has made so many tremendous improvements and brought so many wonderful services to Dallas.
"When I needed surgery, I wanted to be close to home, and am so glad my friends referred me to Dr. Smith and West Valley Hospital. Since my surgery, I've recommended her to friends who are also extremely happy.
"Now we have cardiologists and other specialists right here in Dallas. I hope more people know to ask their doctors to refer them to West Valley Hospital's specialists in Dallas."