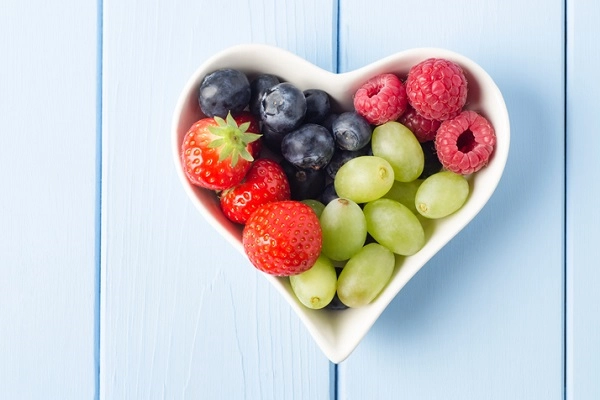 Local summer berries give you the best of both worlds — outstanding sweetness and nutrition without guilt. Plus, a U-pick trip is fun exercise.
For a burst of vitamins and flavor, nothing beats a fresh strawberry in June, blueberries or raspberries in July and Marionberries in August. There's no excuse to miss your three daily fruit servings this time of year. Try for 1 1/2 to 2 1/2 cups each serving and eat berries at least four times a week.
Did you know local strawberries are available through September? Late berries have more flavor because they get more sun.
How to keep berries fresh
Blueberries can sit out for a day or two, but refrigerate strawberries and raspberries within two hours. Raspberries can quickly grow mold if left out longer. Rinse berries right before you use them because water increases the chance for mold. They hold up better if they're chilled.
The trick to keeping berries fresh is to kill spores on the fruit. Vinegar kills them.
Place berries in a large bowl and wash them in a bath of one cup vinegar and three cups water.

Let berries sit in the bath, gently moving them to help dislodge any dirt, and to let vinegar kill spores and bacteria — Just for a minute; don't soak long!

Drain in a colander and then thoroughly rinse to remove vinegar.

Thicker skinned fruit (strawberries, blueberries) can be dried in a salad spinner but dry raspberries and blackberries on a towel, patting them with paper or cloth towels.

Store in a sealed container lined with paper towels. Leave tight lids slightly open to avoid natural moisture build-up. Consider washing the original container and re-use it, but line with paper towels.

Don't store in a crisper; you want circulating air.
Berry seasons
Raspberries: mid-June through July — unless they're ever-bearing, which is mid-August through September. Red, black and evergreen raspberries are common varieties.
Local blueberries: July into September. Good varieties are Berkeley, Bluetta and Bluejay.
Boysenberries: thought to be a blackberry crossed with a loganberry, reigns mid-July through mid-August.
Marionberries: mid-July into August. Named for Marion County where they were first cultivated by Oregon State University in the 1950s and only grown here!

Strawberries (local ever-bearing) are ripe through early September.
What to do with all those berries
Easy berry juice
Rinse berries and place in heavy pot with just enough water to make them bob. Bring to a slow boil, mash with potato masher or spoon. Bring back to boil, remove from heat. Cool slightly.
Pour mashed berries into a jelly bag or colander lined with cheesecloth. Collect juice in bowl and pour into clean jars. Let cloth cool enough to handle, squeeze rest of juice and compost pulp. Sweeten to taste with sugar or other juice like pineapple. Under sweeten. This is a concentrate to dilute with 3 to 4 parts water. Freeze in ice cube trays or small freezer containers. Or, seal in half-pint jars processed in a water bath canner.
How to preserve berries
Most berries are best eaten fresh. They simply don't hold up well frozen, unless you do smoothies, sauces, syrups or recipes calling for frozen berries.
Flash freezing is best: Spread in a single layer (not touching) on a baking sheet, and place the sheet in the back of your freezer. Freeze about 20 minutes. The extra space allows more exposure to the cold, freezing the fruit faster and preventing it from clumping. Transfer frozen berries to large zip-top bags. Marlene Gunderson-Teuscher, baking (and freezing) expert at Willamette Valley Fruit Company, says berries can stay frozen up to one year.
U-pick berries and markets in the Salem, Oregon, area
Willamette Valley Pie Company
www.wvpie.com
Greens Bridge Gardens
https://www.facebook.com/greensbridgegardens
Fordyce Farm
www.fordycefarm.com
French Prairie Gardens
www.frenchprairiegardens.com
Boones Ferry Berry Farm
https://www.facebook.com/boonesberry
Harpole's Produce
https://www.facebook.com/harpoles.produce
Haven Hill Farm
http://www.berrywerks.com/farms/104342
Farm markets and produce stores
E.Z. Orchards Farm Market
www.ezorchards.com

Bauman's Farm & Garden
www.baumanfarms.com

Fresh to You Produce & Garden Center
www.ftyp.com

Salem Public Market
www.salempublicmarket.com
Willamette Valley Pie Company
www.wvpie.com