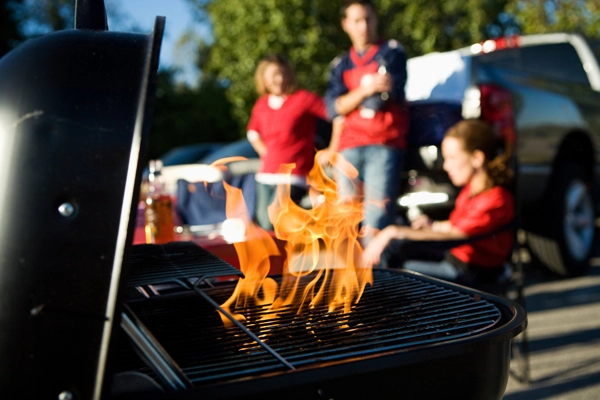 Football season and tailgating go hand in hand. From first downs to firing up the grill, fans delight in the weekly ritual — a football feast for their eyes and tummies.
But mention of the words "healthy tailgating" will likely send a sellout crowd streaming for the exits — or at the very least draw a penalty for illegal use of broccoli!
Timeout! There's no need to panic! It's possible to make healthy choices for game night and not sacrifice favorite ingredients or flavor.
Mindset for meat lovers
Nothing beats hearing the sizzle of the grill. An easy switch starts with choosing lean or extra-lean beef burgers with smaller patties. Turkey or salmon burgers provide tempting healthy options as well — plus provide essential omega-3 fatty acids. Don't forget to grab 100 percent whole-wheat buns or use lettuce wraps.
Consider passing on traditional fried chicken wings and substituting in grilled chicken breast strips tossed with a small portion of Buffalo sauce.
Don't forget to go easy on salt — and toss in some chopped onions or pepper instead. Why not give the American Heart Association's recipe for Tailgate Chili a tryout?
Playbook for sides
This likely presents the biggest challenge for snack lovers. Fans somehow need to find the discipline to say goodbye to chips, chili fries and cheese. Veggies help fill you up and leave you feeling better after the game.
Have a plate of sliced vegetables ready for dipping — and feature plenty of salsa and bean-based dips instead of traditional high-calorie cheese and cream dips.
The grill can make some yummy snacks too. Throw on skewers filled with onions and peppers — and try grilled corn on the cob or zucchini slices.
Draft the right drinks
Remember to enjoy beer and soda in moderation. According to the American Heart Association, drinking too much alcohol can cause people to eat more. Pick a beer that is low in calories and carbs. Look for no-calorie versions of favorite sodas.
Water should be the No. 1 choice, especially on warm game days when dehydration can become a factor. Toss in some fresh fruit to give water a refreshing flavor.
Go for three
1. Choose sides in moderation with a colorful array of fruits and veggies.
2. If you feel hungry, dehydration can be to blame. Drink lots of water!
3. Bottom line: Only eat if you're hungry.
These simple steps can put you on a championship run in the name of fun. Happy healthy eating — go get 'em!
The Community Health Education Center offers healthy cooking classes year-round.