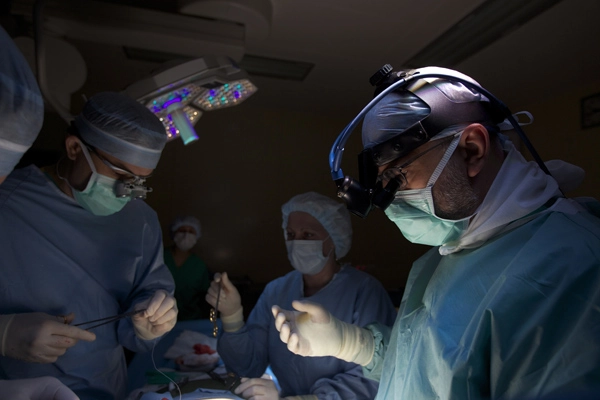 When John C. Bigelow, MD, performed Salem Health's first open-heart surgery on patient Howard G. in 1989, the hospital had high hopes for the future of cardiovascular care for the communities we serve.
Long before Dr. Bigelow performed the procedure on Howard, the hospital was preparing to become a cardiovascular surgery center.
The hospital spent more than $1 million on new equipment and upgrades that included advanced surgery monitors and a heart-lung bypass machine designed to divert blood from the heart during open-heart surgery.
Nurses from the hospital even went to other facilities for training in how to care for cardiovascular surgery patients, proving their dedication and determination to providing quality care.
By training in various teaching hospitals, the staff quickly learned how to specifically care for cardiovascular patients —and continues to put the techniques they learned to good use throughout Salem Health today.
"Implementing a cardiovascular surgery program was a benefit for patients throughout the hospital," Dr. Bigelow said. "It added another dimension to our facility, which was already known for compassionate and friendly care."
The first patient during Labor Day 1989, Howard began experiencing pain related to a kidney stone.
His wife, a urology nurse, identified his symptoms and suggested he see a physician. Howard's primary care physician recommended surgery, and his surgeon discovered a possible issue with his heart during a preoperative exam.
A treadmill test later revealed a 90 percent blockage in one of his arteries. Howard opted to become the first patient to undergo heart surgery at Salem Health.
"I didn't want to put the burden of driving a long way on my family, and I wanted to have the procedure within my own community," said Howard. "I knew Salem Health was putting a lot of effort into preparing for cardiovascular procedures and felt comfortable trusting the physicians and nurses at the hospital with my heart's health."
After the surgery was performed on Nov. 7, 1989, Howard began to work toward a full recovery.
Today, he watches his diet, walks the golf course regularly, and now enjoys good health and the fruits of retirement.
"I have been very well since the surgery, and I believe if I continue to take care of myself, I will be well for a long time," said Howard. "The wonderful clinical staff at Salem Health did a great job caring for me. I owe them my life."
Moving forward, Salem Health's cardiovascular center looks nothing like the center in which Dr. Bigelow operated on Howard back in 1989.
Today, Salem Health offers patients a door-to-balloon time—the time from when the patient enters the hospital to when a surgeon is able to open the blocked artery in the cardiac catheterization lab — that is better than the national average 97 percent of the time.
The prestigious 2014 Truven Health 50 Top Cardiovascular Hospitals annual awards program named Salem Health as one of the highest-performing cardiovascular hospitals in the nation.
Despite these changes, however, the dedication to exemplary patient care and a high level of patient education remains the same.
Patients have a dedicated nurse who educates them and their families on the lifestyle modifications needed after a cardiovascular diagnosis as part of the first phase of our cardiovascular rehabilitation program."
The second phase of Salem Health's cardiovascular rehabilitation program encourages patients to exercise and teaches them how to get in shape safely.
Care teams actively pursue the highest standards of care and the latest technology to provide patients with the most comprehensive cardiac care available.