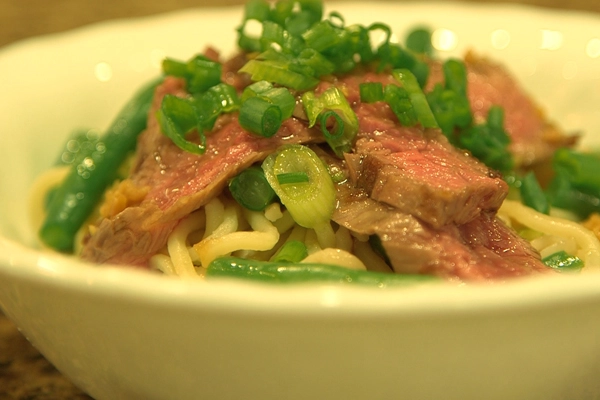 A video version of this recipe appears on Salem Health's Facebook page.
Ingredients
12 ounces soba noodles
12 ounces flank steak
1 teaspoon peanut oil
1 pound green beans, trimmed
1 bunch green onions/scallions
Dressing
1 tablespoon ginger, minced
2 cloves garlic, minced (or more)
1 tablespoon light soy sauce
1 tablespoon peanut oil
3 tablespoons rice vinegar
1 tablespoon brown sugar
Directions
Heat a large nonstick or cast-iron skillet over high heat. Reduce heat to medium-high, add 1 teaspoon of peanut oil to the pan and sauté steak for about 5 minutes or until cooked through. (For medium doneness, the steak will still be slightly pink in the middle.) Remove steak and set aside in a warm place to rest.
Meanwhile, bring a pot of water to boil. Cook the soba according to packet instructions (usually 3 to 4 minutes). For the last 1 minute of cooking, add the green beans.
Drain the noodles and beans and rinse under cold water to stop them from cooking further and to cool the noodles.
Combine dressing ingredients.
Slice steak against the grain into thin slices.
To serve, divide the noodles between 6 bowls, top with the beans then the steak slices. Drizzle with the dressing (over the steak and noodles), then garnish with green onions slices.
NUTRITION FACTS
(6 servings)
| | | | | | | |
| --- | --- | --- | --- | --- | --- | --- |
| Calories | Fat | Chol | Carbs | Fiber | Protein | Sodium |
| 329 kcal | 7 g | 28 mg | 50 g | 3 g | 21 g | 594 mg |